In keeping with all of the "do it yourself" ideas that Kristen had for her wedding was the way the flowers were put together.  They used fancy umbrella handles and attached the flowers to them for the bride and the bridesmaids to carry.  They looked great and would also double as good protection to guard against a mugging.
Bruce Roy at Belle Fleur provided the cake.
I have never known another photographer who makes me feel like more of a slacker than Jonathan Palmer.  He shoots all the time.  "Working" or not.  JP's wife Danielle was a bridesmaid in the wedding so he was lurking around the reception with his camera (see below).  I'll come back to this at the end…
The music for the reception was some of the most fun and unique I have ever heard.  The Two Gentleman Band out of New York City are great!  I would try to describe their style of music to you but just take a look at them….they sound exactly like they look.  You might not think that a two man band would keep the dance floor full but they certainly did!  They were really fun and could play the heck out of a kazoo.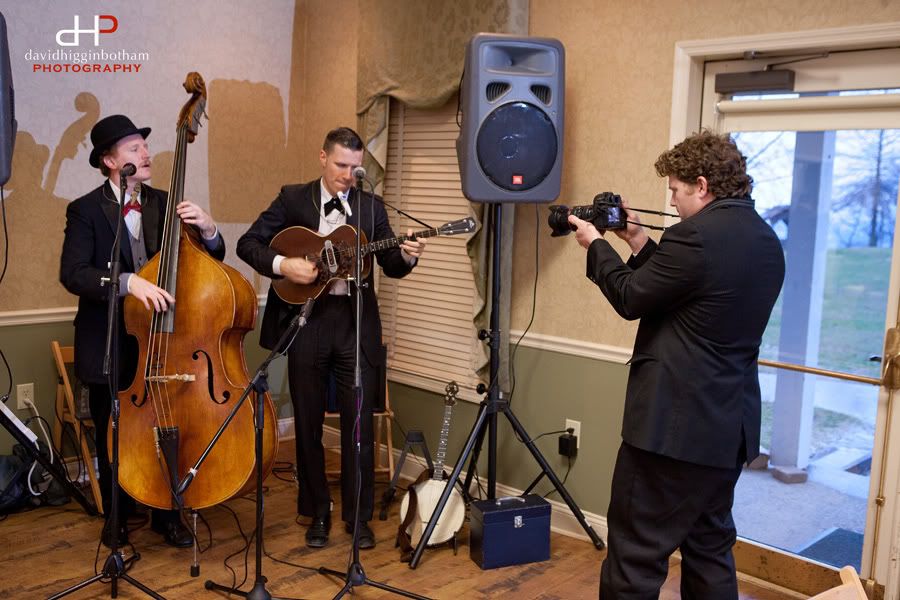 Back to those cool DIY ideas from Ms. Kristen….this photo by Cosby.
Their first dance…
…and the Father/Daughter dance.
The bride and groom on the dance floor with the aforementioned Jonathan Palmer in the background.  He proved once and for all that he is a better photographer than dancer.
Then it was time for the traditional groom and brother of the groom dance.  Is this not a normal tradition?
I braved the cold and lack of tripod for a quick shot of the city after the sun went down.
Then they ran through sparklers and headed towards the honeymoon……oh wait….
This amazing finale was a surprise to Luke from his new Mrs.
How to depart from a wedding reception | Part 1 from Jonathan Palmer on Vimeo.
Thanks to JP for this video!
There was no way I was leaving that reception without getting my picture with The Almost King of Pop.